American technology giant Apple Inc. has reportedly announced to have entered into a strategic partnership with Salesforce, which is known for its foremost Customer Relationship Management (CRM) platform in the world. Reports cite, the partnership aims to integrate the Salesforce CRM platform with iOS to enable new powerful mobile-apps for businesses.
Reportedly, Salesforce is re-designing its applications to adopt the native mobile platform with unique new features on iOS. The two companies would also be providing resources and tools to millions of salesforce developers to create their own native apps for iOS with the new Salesforce Mobile SDK. The companies are also hosting an iOS app development course on Salesforce's free online learning platform – Trailhead.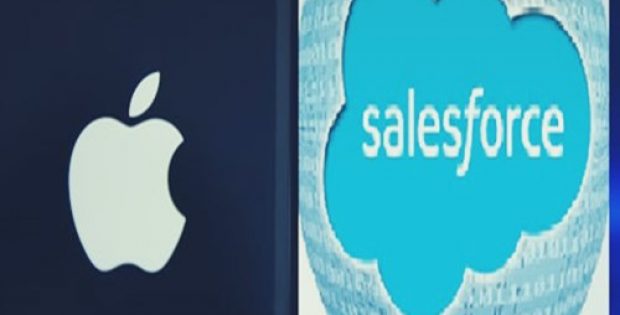 According to a press release by Salesforce, the strategic partnership would be initially focusing upon restructuring native Salesforce Mobile App for more enhanced user experience of iOS with novel Apple capabilities like Face ID, Siri Shortcuts, Business Chat etc. Both the firms would develop the Salesforce Mobile SDK that is optimized for Apple's powerful programing language Swift and would launch the iOS App Development Trail course for beginners to learn native iOS app development using Xcode with Swift.
Chairman & co-CEO of Salesforce, Marc Benioff reportedly stated that the partnership would bring forward an amalgamation of the world's #1 CRM platform and the world's best business devices. Benioff further added that the partnership is heralding a new mobile innovation era with the iOS native apps and would provide job-oriented skills to millions of individuals through the Trailhead course.
CEO of Apple, Tim Cook stated that the company is thrilled to work with Salesforce to bring the industry-leading CRM platform on iOS to deliver unique new features on the iPad and the iPhone. Cook further added that the powerful integration of iOS and new Salesforce apps and the new SDK would further enhance customer experiences for businesses worldwide.
Reportedly, Apple and Salesforce would offer an early look at the new services to the attendees of Dreamforce 2018 at the Trailhead Area.